You may be surprised when you visit the Dentist to hear terms like gingivitis or periodontitis, but basically we are talking about gum disease.
The World Health Organisation (WHO) now recognises severe periodontitis as the 6th most prevalent disease of mankind.
Shocking when it can be so preventable!
Periodontitis is a chronic inflammatory disease caused by bacteria, that affects the supporting tissues around the teeth.
In the early stages of periodontitis, some people are not aware of any problems. However, as the disease progresses, they may notice bleeding gums, a bad taste in their mouth and later on, become aware of loose teeth. If periodontitis is not treated, it will end up with both loss of teeth and eating function, which will negatively affect your quality of life.
As many as 37% of the adult population suffer from moderate levels of chronic periodontitis.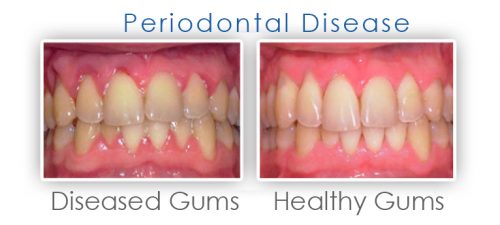 Various risk factors for periodontal disease have been identified by the British Society of Periodontology,  including poor oral hygiene, tobacco use, diabetes, genetics, poor nutrition and stress.
https://www.bsperio.org.uk/patients/index.html
Your Dentist has a crucial role in recognising the early signs and diagnosing gum disease and every dental examination you attend will include careful assessment of your gums and oral hygiene.
Gingivitis is a reversible plaque-induced inflammation of the gingival tissues. Plaque is the sticky, colourless film that constantly forms on your teeth.
If it is not removed regularly by tooth brushing and flossing, it hardens to create calculus (also known as tartar). Calculus cannot be removed with a toothbrush; only a dental professional can remove it during oral cleaning.
The gingival tissue is the clinical term for gums, the soft tissue surrounding the teeth and jaw bone.
Gingivitis is recognised by redness, swelling and bleeding on brushing. It is common, affecting 55% of adults. Persistent gingivitis can lead to irreversible periodontitis.
Both the prevention of periodontal diseases and the maintenance of the periodontal tissues following oral hygiene treatment rely on the ability and willingness of the individual (you) to perform and maintain effective plaque removal. This may require a change in behaviour in terms of brushing, interdental cleaning and other oral hygiene techniques as well as lifestyle behaviours such as tobacco use and diet.
From a professional viewpoint it is vital that we can demonstrate from patient's records and x-rays that any periodontal disease present has been identified, recorded and monitored appropriately. In addition, the records should show clearly that the patient has been informed of the nature and extent of their periodontal problems and how to manage it.
https://www.bsperio.org.uk/publications/downloads/95_105645_bsperio-patient-information.pdf
So don't be surprised when we see you and ask what your daily oral care routine is, it's not a test or trick question to catch you out!
We need to know that you have all the tools and knowledge required to take care of your gums and prevent this disease that could cost you your teeth!